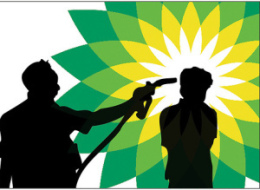 As you are hopefully well aware, BP has been doing its level best to interfere with reporters in the Gulf Coast region to keep them from reporting on what's actually going on down there as clean-up efforts continue.
BP has been striving to

keep reporters away from affected areas

, put the kibosh on i

mages of the destruction done to area wildlife

,

hassle loca

l

reporters

and run off area activists. It has also gone as far as

dispatching

its own PR staff to masquerade as journalists

and report the happy side of this epic disaster.