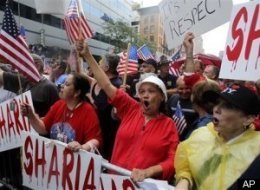 Some counterterrorism experts say the anti-Muslim sentiment that has saturated the airwaves and blogs in the debate over plans for an Islamic center near ground zero in Lower Manhattan is playing into the hands of extremists by bolstering their claims that the United States is hostile to Islam.
Evan F. Kohlmann, who tracks militant Web sites at the security consulting firm Flashpoint Global Partners, said supporters of Al Qaeda have seized on the controversy "with glee." On radical Web forums, he said, the dispute over the Islamic center, which would include space for worship, is lumped together with fringe developments like a Florida pastor's call for making Sept. 11 "Burn a Koran Day."
"It's seen as proof of what Awlaki and others have been saying, that the U.S. is hypocritical and that most Americans are enemies of Islam," Mr. Kohlmann said. He called the anti-Islam statements spawned by the dispute "disturbing and sad" and said they were feeding anti-American sentiment that could provoke violence.