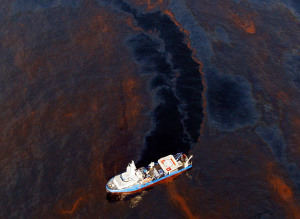 In the wake of the growing environmental catastrophe in the Gulf of Mexico, BP is being blamed for discounting the potential for a massive oil spill and underestimating its effects.
But the federal agency tasked with oversight of offshore oil drilling may be even more responsible for understating the impact of a spill in the environmentally-sensitive area.
In a 2007 environmental impact statement for the Western and Central Planning Area Sales, which includes the Macondo Prospect where the Deepwater Horizon rig exploded on April 20, the Interior Department's Minerals Management Service downplayed the potential for environmental damage.